Se ofrece un voluntariado aves en Portugal con aves con becas de voluntariado europeo para participar en un proyecto en ese país en un centro de recuperación de aves.
Estas son las condiciones de Participación en estas becas en Portugal. También puedes ver las becas voluntariado europeo en Portugal.
Fechas
Activity start date: 1st June 2018
Activity end date: 31st May 2019
Activity duration: 12 months
Vacancies: 1 (for Spanish residents only)
Application deadline: May, 6th 2018
Voluntariado aves introducción
The Portuguese Society for the Study of Birds is a non­-governmental non-­profit environment organization that promotes the study and conservation of birds and their habitats in Portugal, funded in 1993. It is the Portuguese member of BirdLife International.
PROPOSED ACTIVITIES:
The volunteer will be mainly involved in "Birds and Powerlines", and "Life Rupis" projects, among
others, with a diversity of tasks including field work, office and lab work:
– Field work: prospection of birds under powerlines; egyptian vulture marking/monitoring (Life Rupis); participation in birdwatching and environmental education activities;
– Office work: data analysis with Excel and ArcGIS; internet search on several conservation themes such as ilegal capture of birds- Lab work: Help with the treatment of feather and bird bones for SPEA Reference collections;
– Support other staff members of SPEA with their projects;
– Possibility of developing a personal project.
SPEA intends to support the volunteers to create their own events or initiatives, in accordance with their principles and upon Board's approval.
Participantes
IT IS PERFECT FOR A PERSON +18, WHO IS INTERESTED IN YOUTH WORK AND NON-FORMAL EDUCATION.
Formación durante el trabajo en Finlandia
Volunteers will have mentors and work leaders from both organizations who are prepared to support volunteers through their time here. Volunteers will also take part in arrival trainings organized by National Agency.
Perfil para trabajar en Finlandia como voluntaria
We are looking for young motivated volunteers aged 18-30, open minded, eager to learn about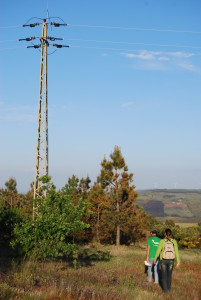 new cultures and lifestyles, as well as to participate in the project activities. It is not required to have any particular degree of formal education, but to have positive and proactive attitude, show tolerance, flexibility, motivation and enthusiasm. In this project, patience and the capacity to work in a team will be highly appreciated. We encourage applications especially from youngsters who already have some experience in volunteering or in working with environment related issues, available to commit to a long term experience of volunteer work abroad and willing to know more about the work developed in ornithology and environmental preservation in Portugal . Priority is given to candidates with fewer opportunities (please consult your sending organization whether this status applies in your situation). Any knowledge of Portuguese is a plus, however it is not a requirement.
According to the 2018 Erasmus+ rules, all candidates must be registered with the European Solidarity Corps.
Información adicional
LOGISTICS & PRACTICAL INFO:
Accommodation – Coordinating & hosting organization, Associação Spin, will provide the lodging in a flat as close to the office and the city center as possible. If the apartment is located in the city center, the volunteers will spend around 35 minutes to reach the working place. The volunteers will have to share the room with another volunteer/student/young person (room and connected expenses are paid by Associação Spin). They may also – if so wished by the volunteer – receive a monthly accommodation allowance and be solely responsible for finding and paying for their own accommodation.
Food & transportation – A monthly allowance of 186,70€ will be provided by Associação Spin to cover food expenses and local public transportation.
Pocket money – Every month the volunteer will receive 152€ as pocket money.
Working hours – The volunteers are expected to spend 30-35 hours a week working. The daily timetable includes time for language learning, lunch, social activities and development of own project ideas, etc.
Days off – Volunteers are entitled to two days off per week (usually on Saturday and Sunday) as well as 2 extra days of vacation for every month of their voluntary work.
Proceso de selección
Final remarks (please read carefully):
this project, "Change+" has already received funding from the Erasmus+ Program, so it is sure that it starts in June
only candidates residing in Spain can apply (our sending partner organization is from Spain, there is no possibility of change in this regard)
please make sure you are registered with the European Solidarity Corps;
we only accept complete applications that contain all the required documents;
we can´t consider applications sent after the deadline (May, 6th);
due to the high number of candidates, we are only able to contact the short-listed candidates (in order to invite them for a brief Skype interview);
We will study carefully all application and selected candidates will be invite for Skype interview.
For the selection of the volunteers we will need:
– CV with picture (made in the last month) with skype name included

– Motivational letter, writing that your sending organisation will be "Building Bridges". We ask all candidates to send a specific letter of motivation – why they want to volunteer with us rather than just a general EVS one. The volunteer is chosen according to his/her motivation and interest to the project and to the activities. It will be paid special attention to cover letters.
[button color=»purple» link=»https://dl.dropboxusercontent.com/u/83534036/Motivation%20letter%20EVS.doc» size=»bigger» target=»_blank» icon=»momizat-icon-pencil»]Motivation letter[/button]
[button color=»orange2″ link=»https://www.dropbox.com/sh/cqd30j12iat0quv/AAASMnNxA1tknyAl63Y6emnOa?dl=0″ size=»bigger» target=»_blank» icon=»momizat-icon-file3″]Application form Building Bridges[/button]
Remember to write in the motivation letter that your sending institution is "Asociación Building Bridges".
All documents written in english you can send to: asociacionbb@gmail.com with subject "EVS Portugal Ines.YOUR NAME.YOUR SURNAME".